For English version, scroll down!
Saptamana trecuta
am castigat
, alaturi de
Adina
, pe blogul
Cameliei
o mostra de fond de ten mineral de la
Lily Lolo
. Nuanta mea este In the Buff si mare mi-a fost mirarea cand am vazut ca mi se potriveste perfect. Desigur, asta pana cand voi ramane fara bronz ;))
O surpriza foarte placuta a fost urmatoarea: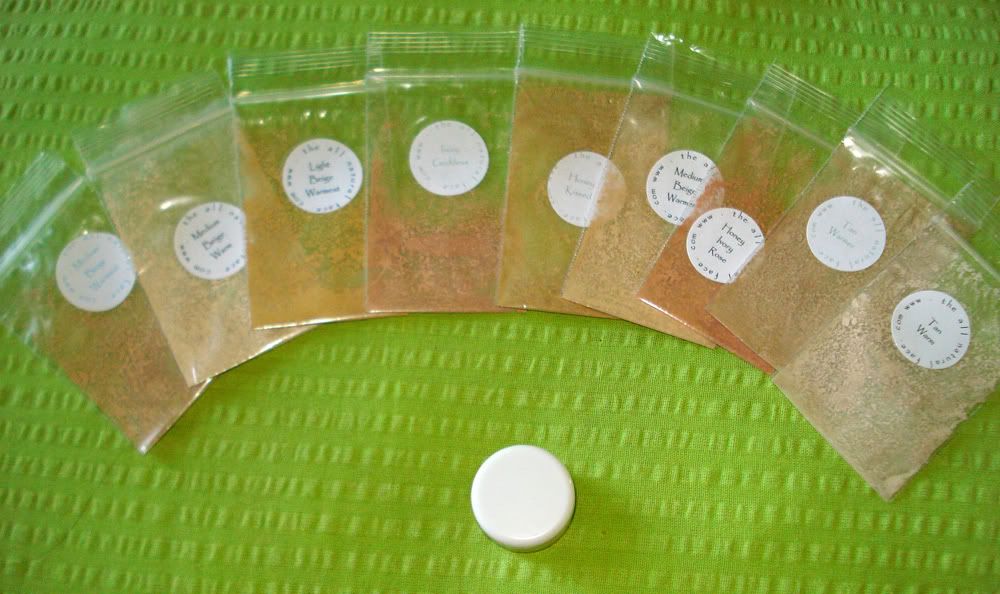 Pe langa mostra de la Lily Lolo, Camelia mi-a mai dat si 9 mostre de la The All Natural Face. Ii multumesc inca o data cu aceasta ocazie si tin sa mentionez ca mi se pare cea mai generoasa bloggerita :) Merita sa treceti si pe la ea sa vedeti ce postari interesante si utile are.
Acum sa trecem la review.
Produsul arata cam asa:
Este o pudra destul de fina si, dupa cum bine a zis Adina, cantitatea imi va ajunge pentru mult timp deoarece este necesar foarte foarte putin pentru a acoperi intreaga fata. Absoarbe fara probleme sebumul in exces, dar aveti grija cu pielea prea uscata pentru ca are tendinta sa scoata in evidenta acest lucru. Tocmai de aceea il recomand persoanelor cu tenul gras sau mixt.
Eu am ales sa il aplic cu o pensula flat-top sintetica: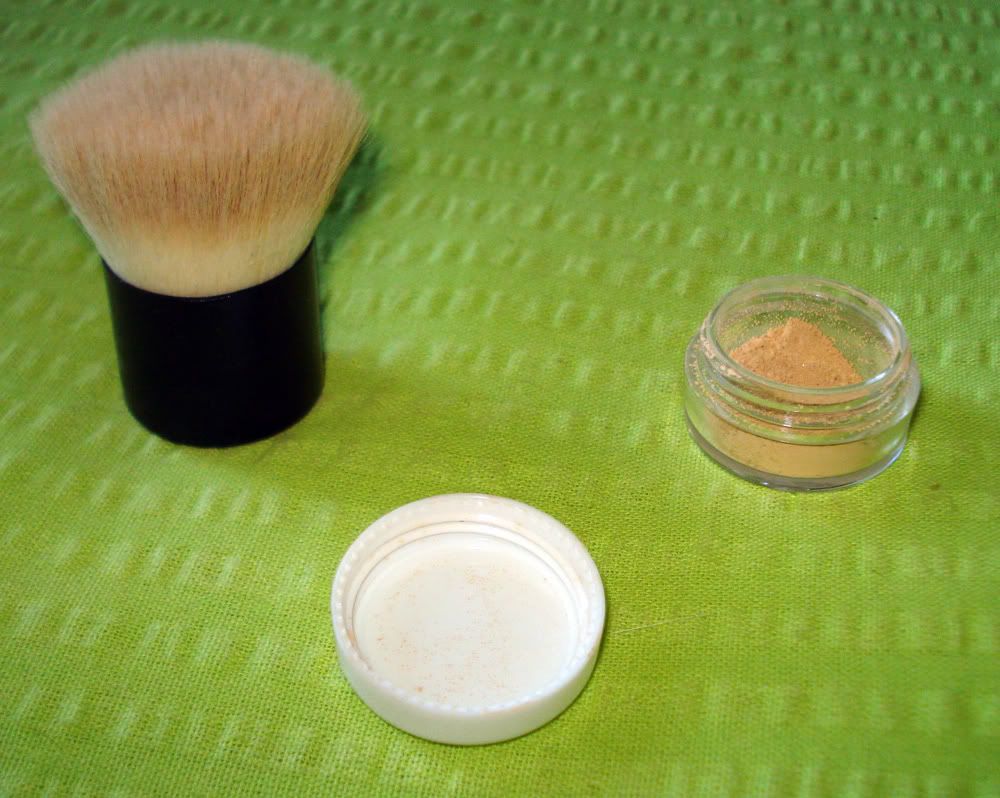 Mi-a oferit acoperire destul de buna, dar eu am mai avut nevoie sa folosesc putin concealer sub fond de ten deoarece am niste cicatrici de la cosuri care nu dispareau altfel. Dar daca nu aveti probleme ca mine va asigur ca este mai mult decat aveti nevoie :)
Eu am tenul mixt si am observat urmatorul lucru: in timpul zilei aveam impresia ca zona T mi s-a ingrasat, dar cand m-am uitat in oglinda nu era nici urma de sebum, asa ca am fost tare multumita la capitolul asta, comparativ cu cel de la TANF este mai bun.
La capitolul aplicare mi s-au parut la fel ambele fonduri de ten, mai putin efectul de dupa.
Cu cel de la TANF foarte des pateam sa imi dea acel efect de "caking", nu intra in piele si statea ca o masca la suprafata. Ce-i drept, nu l-am incercat de mult timp pe cel de la Lily Lolo, dar nu am patit asa ceva cu el nici cand am incercat sa il reaplic dupa cateva ore, din curiozitate, sa vad cum se comporta.
Mai jos aveti doua fotografii cu ambele fonduri de ten de aproape pentru a vedea textura lor: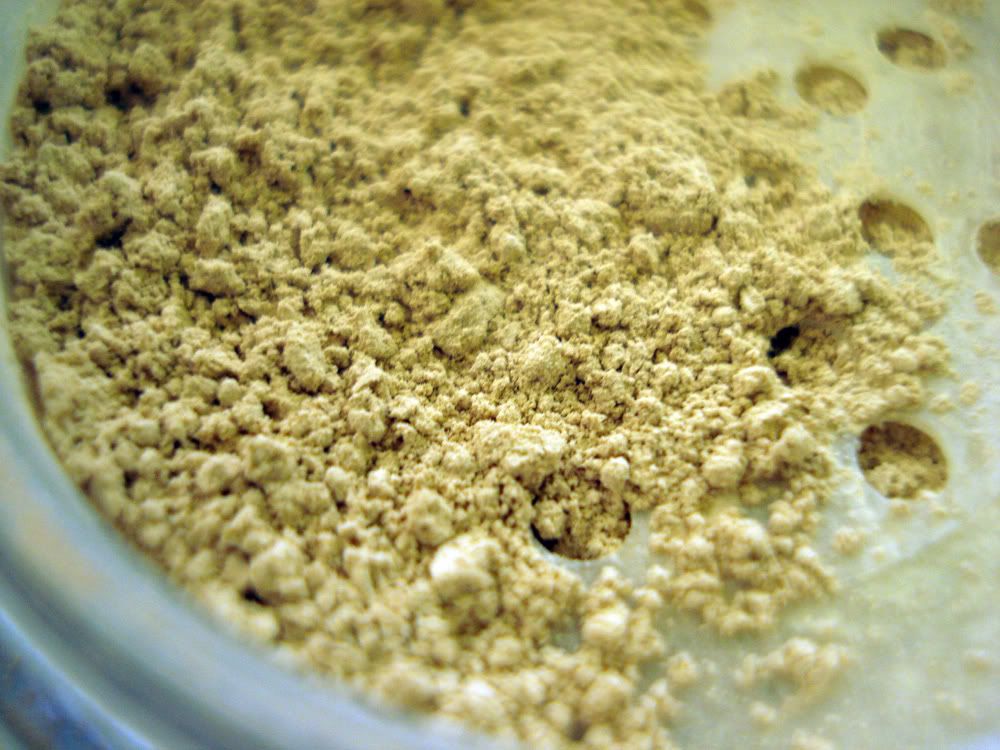 The All Natural Face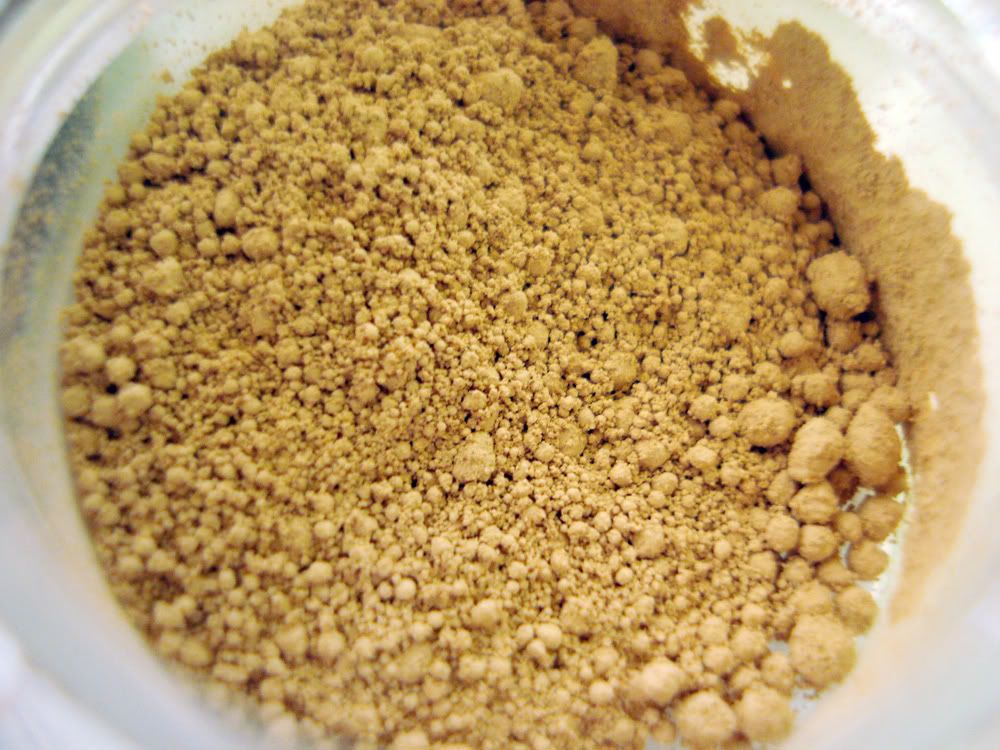 Lily Lolo
Culorile sunt diferite pentru ca cel de la TANF este pentru tenul meu de iarna :)
Mie-mi place fondul de ten primit si il recomand cu caldura oricui doreste sa incerce fondurile de ten minerale.
Astept parerile voastre si va doresc o zi buna!
Hi there! Last week I won a sample of Lily Lolo mineral foundation from
Camelia
and I was thrilled to discover that she also sent me 9 TANF (The All Natural Face) foundation samples, she is a sweetheart.
My color is In the Buff. You can see photos of the product above. It's a fine powder which gives medium coverage, unfortunately I had to use a concealer under it for my acne scars. But if you don't have my problem than I'm sure the coverage is more than enough for you. Also, I'd recommend it for people with oily and combination skin, because it absorbs the extra oil your skin produces. If your skin is dry try it out and see if it works for you, because it may enhance that and make it look flaky.
The way I applied it was by using a synthetic flat-top brush. I think it gives best coverage. Throughout the day I felt like my skin was becoming oily, but when I checked in the mirror it looked great, so thumbs up for that. As for the application, both foundations are similar. The differences start when you let it set. The TANF one tends to become cakey and look unnatural, whereas the Lily Lolo one blends perfectly into the skin. Even after I reapplied it after 7 hours, just for the sake of it, it still didn't cake and had that natural look to it. If you scroll up you'll see a photo comparison between the two involving their texture.
All in all, I'd definitely recommend this foundation for anyone who is eager to try it.
I'd love to hear your opinion on the matter. Have a nice day!
Follow my blog with bloglovin