NYX Nude on Nude *Review*
By Stefana Teodoroiu - sâmbătă, septembrie 25, 2010
Asa arata aceasta mica trusa cu 9 farduri si 2 nuante pentru buze. De asemenea mai contine o oglinda si un dublu aplicator cu buretel si unul cu pensula de buze. Nu are rost sa vorbesc despre ele pentru ca oricum nu am de gand sa le folosesc. Prima data cand am scos-o din cutie am fost uimita de cat de mica este, nu ma asteptam la asa ceva, si, ca sa incercati sa va faceti o idee, i-am facut o fotografie la mine in mana: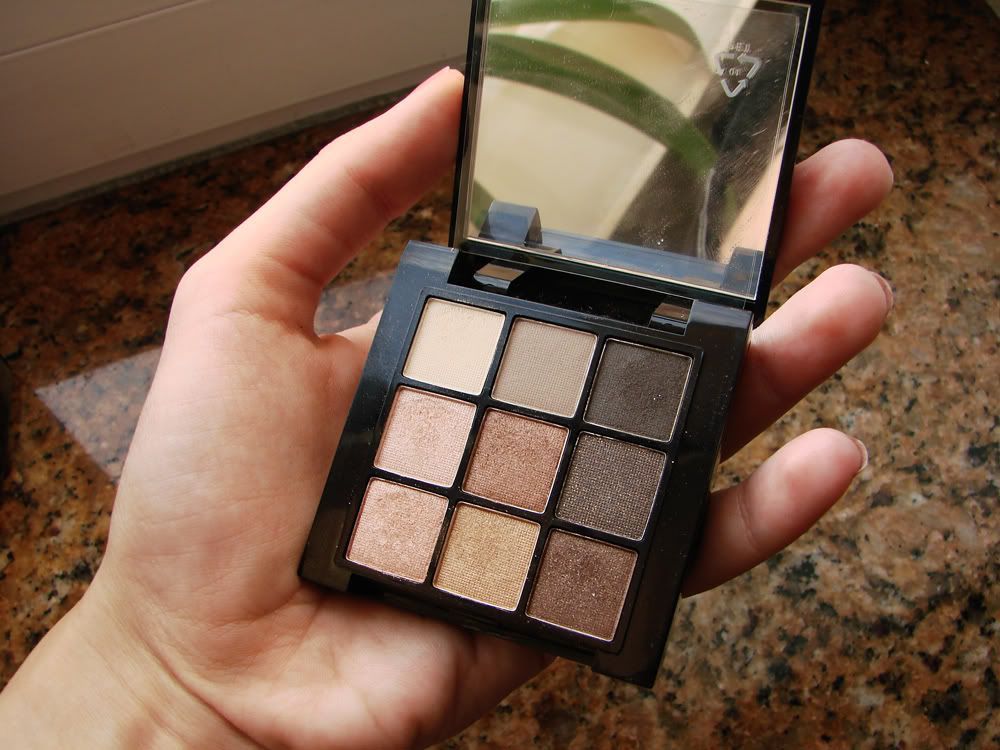 The set contains 9 eyeshadows and 2 lip colours. Also, it has a mirror and 2 double ended applicators, a sponge-tip and a lip brush. There's no point in talking about them because they're useless for me anyway.
My first impression was: WOW this is small! I didn't expect something huge of course, but I still looks small to me. Here's a photo of it in my hand so that you could get the idea.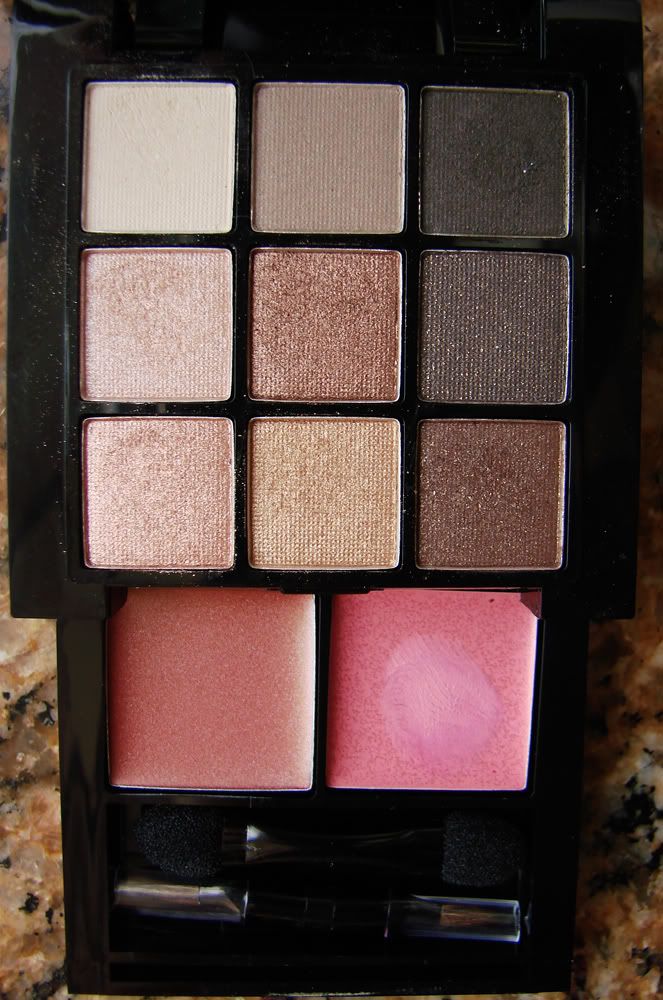 Are un mic sertaras dedesubt in care se afla cele doua culori pentru buze si cele doua aplicatoare. Se deschide foarte usor, mai greu e cand trebuie sa il inchizi.
It has a little drawer underneath which opens by sliding it towards you. It contains the lip colours and the applicators.
Carcasa nu pare a fi rigida si chiar am avut o surpriza neplacuta la prima utilizare: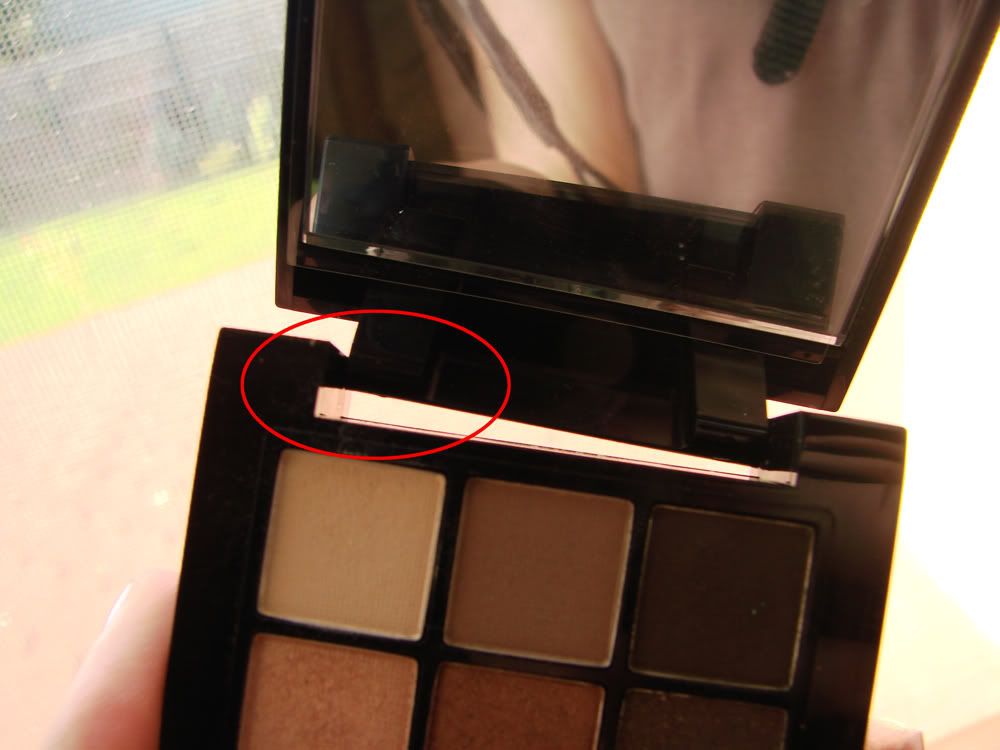 Am putut sa o prind la loc, dar ma tem sa nu se rupa definitv.
The case seems to be sloppy and I even had an unpleasant surprise with my first use: the lid which also is a mirror moved from its place. I managed to put it back in, but my main worry is that it might come off again some time in the future.
Next, you will find some swatches.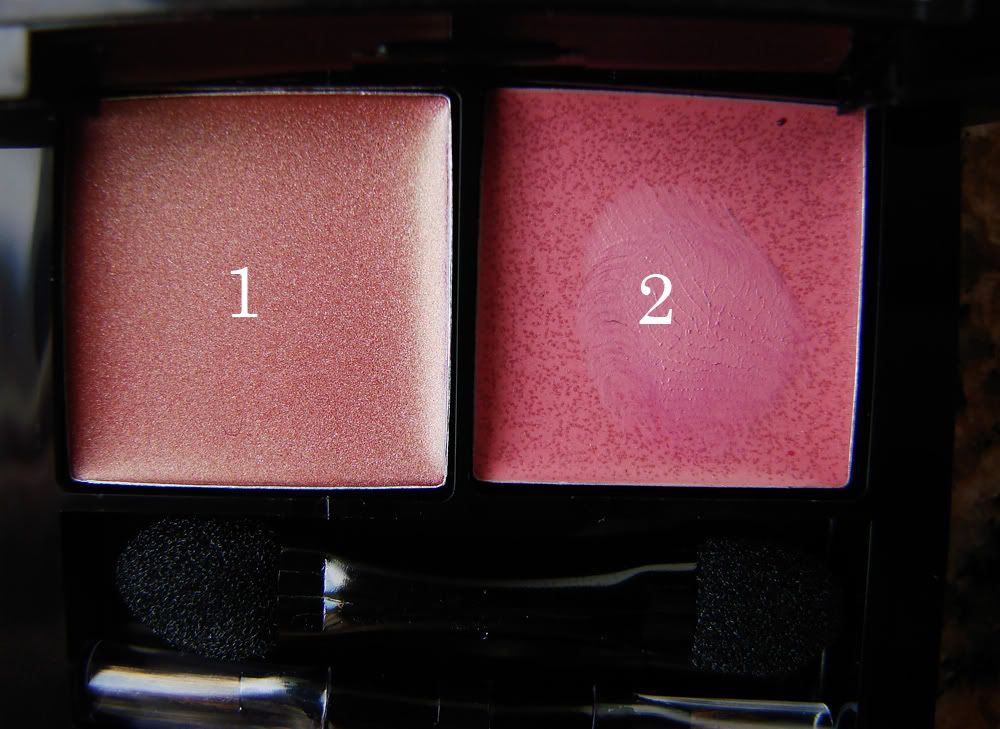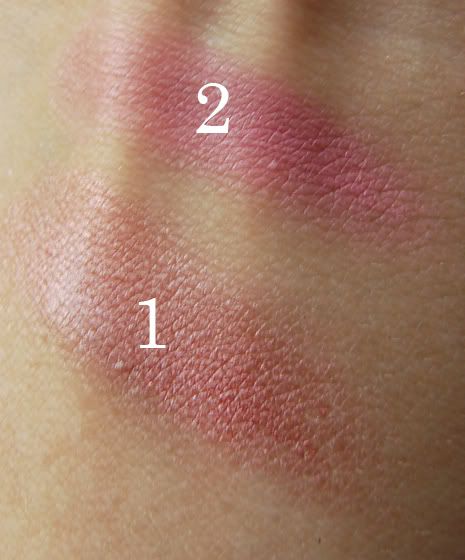 Natural light
Flash

Imi place foarte mult prima nuanta si cred ca se potriveste cu fardurile de ochi, dar rozul de la nr. 2 nu mi se potriveste deloc asa ca probabil va ramane aproape neatins.
I really like the first colour and I think it goes well with the eyeshadows, but the pink one just isn't for me.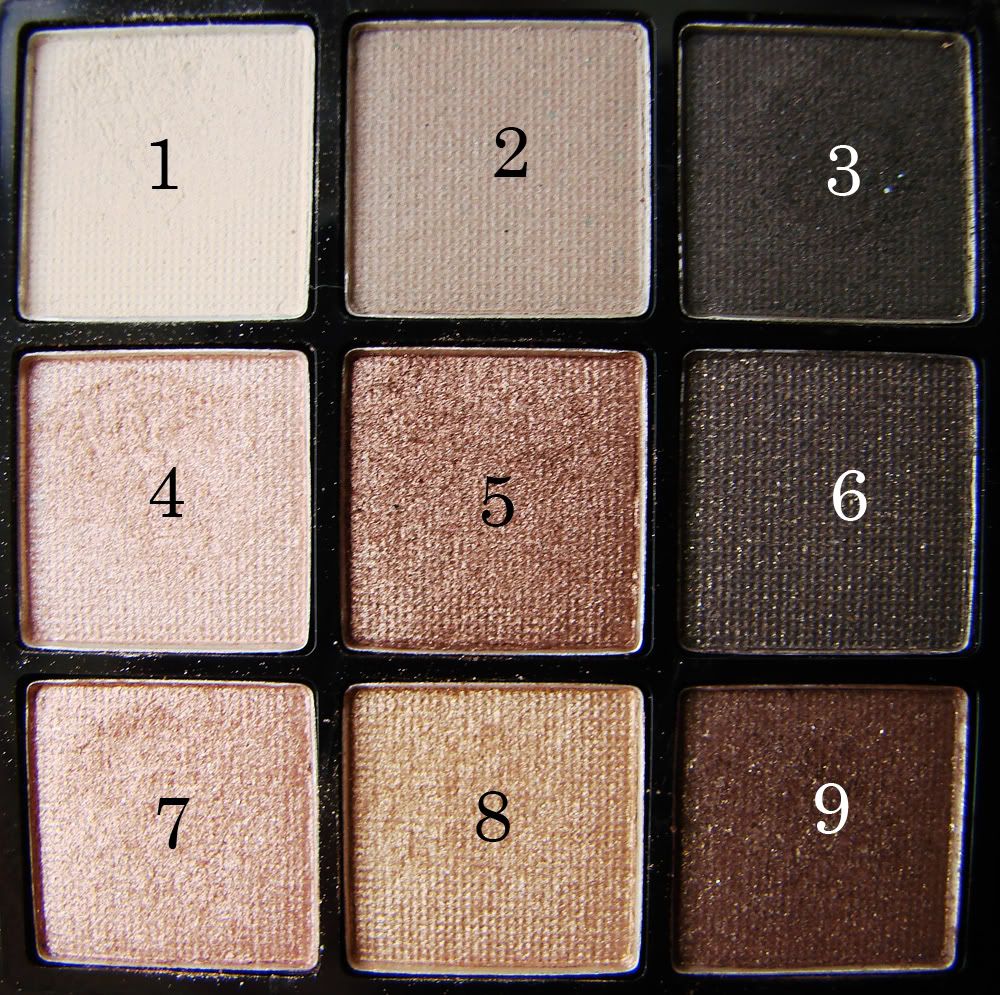 TFSI - Too Faced Shadow Insurance
Fardurile de pe primul rand mi se par un pic prafoase, fata de celelalte care au o textura fina. Primul este foarte bun ca highlight, al doilea nu se vede aproape deloc pe pielea mea, iar al treilea pare foarte inchis, dar pigmentatia lui este destul de slaba dupa cum vedeti in swatch. Toate sunt mate.
The first 3 eyeshadows tend to be a little bit chalkier than the rest. The first one is very good as a highlight, the second one is almost invisible on my skin and the third one is very poorly pigmented, but works well in the crease. All of them are matte!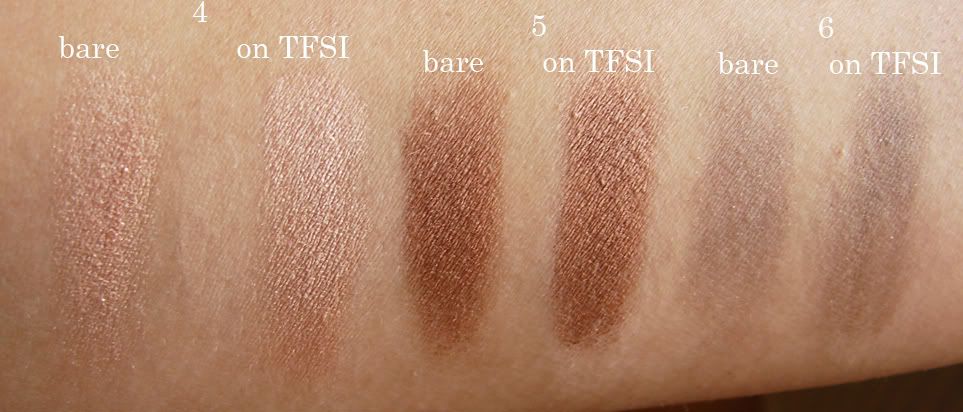 Nuantele 4 si 5 sunt printre favoritele mele, au niste reflexe superbe si sunt foarte pigmentate. Culoarea 6 in schimb nu mi se pare cine stie ce.
Colours 4 and 5 are among my favourites, they've got amazing reflexes and are very pigmented. I don't particularly like no. 6
7 si 8, alaturi de 4 si 5 vor deveni cele mai folosite farduri, sunt sigura :D si 9 are un sclipici fain, dar nu prea se vede in poza.
7 and 8, along with 4 and 5 will surely become the eyeshadows I'll use the most. No. 9 has glitter in it and looks really nice, but unfortunately the photo doesn't show it.
In ultimele saptamani, in mare parte din cauza scolii, am folosit numai nuante pamantii si neutre la machiajul ochilor, asa ca aceasta trusa este perfecta pentru mine. Mai ales ca are si o culoare potrivita pentru buze + oglinda. E numai buna de luat cand plec pe undeva.
Intr-o singura trusa ai highlighter, nuante mai inchise pentru pliul pleoapei si culori superbe in general. Daca esti genul care iubeste machiajele simple, dar de efect, atunci aceasta trusa sigur e pentru tine.
In the past weeks, I've been mainly doing neutral and earth-toned eye makeup so this set is perfect for me. The mirror and lip colours make it good for travelling. You have a highlighter, lid colours and crease colours all in one, so I would recommend buying this if you are a neutral make-up kind of girl.
Sa aveti un sfarsit de saptamana cat mai placut! Astept parerile voastre.
Have a great day and please comment and tell me anything you feel like saying :)
Follow my blog with bloglovin